Blog Guest authored by Amey Rajput of the SmarTrust Business Unit at Tech Mahindra
Having a trusted provenance for life saving drugs, like vaccines, is a must. Consumers today are more informed, active, and cautious. They question the authenticity of every product and service before buying or endorsing. This has been amplified more so with the pandemic; especially for all Covid19 related care. In August 2021, the World Health Organization identified counterfeit versions of India's primary COVID Vaccine, Covishield in India, and Africa. It warned that fake vaccine poses a serious risk to global public health. Pfizer also identified counterfeit medicines in Mexico and Poland.
The sheer scale of immunization that governments must cover, while maintaining optimal manufacturer recommended storage conditions within the supply chain, is immense. It is imperative to provide a tool to authenticate, validate, audit, and trace every unit of vaccine vial. A blockchain record could be used containing originating manufacturing facility information, through movement within the supply chain, and lastly the end users, who eventually administer these vaccines.
Today's complex pharmaceutical supply chain involve numerous participants and disparate systems such as ERPs, transport management systems, inventory tools, and coverage applications. A large number of these systems don't talk to each other. Such an ecosystem creates information silos. This, in turn, generates opaque and inefficient supply chains. The imperfections of a supply chain can cause situations of overstock, understock, expiry, and wastage that inevitably adversely affect patients.
According to the National Vaccine Wastage Assessment report by UNICEF and the National Institute of Health and Family Welfare of India, factors that lead to the waste of unopened vaccine vials are:
Broken Vials
Exposure to Heat
Freezing
Expiry
Missing inventory
Theft
The study suggested 29% of wastage is due to breakage and 71% of the wastage is due to unusable vaccine vial monitoring (VVM), which is a label containing heat sensitive material to measure cumulative heat exposure. While VVM are simple to use they do not provide a real-time understanding of conditions and are intrusive. Hence, a majority of VVM based wastage is seen at downstream locations such as at the district level or the service delivery level.
Fig. 1 – Per the National Vaccine Wastage Assessment report: Current Vaccine Wastage Rates at Service Delivery Point in Comparison with Permissible Vaccine Wastage Rates
Tech Mahindra, along with partner StaTwig, studied the vaccine supply chain challenges to build a technological solution with almost real-time visibility of vaccine conditions on AWS Infrastructure. It uses emerging technologies like private permissioned Blockchain, Internet of Things (IoT), Artificial Intelligence/Machine learning and Advanced Analytics.
The solution, VaccineLedger, is designed in a patient first framework that helps ensure usage at the right place, right time, right patient, and right medicine. This is achieved by integrating disparate systems owned by manufacturers, distributors, logistics, and last mile partners to a middleware. This then acts as a single source of truth and synchronizes demand to supply. Each participant in the value chain understands exactly what to do and has complete visibility of the chain of custody, ambient conditions of each vial and actionable insights to perform required tasks.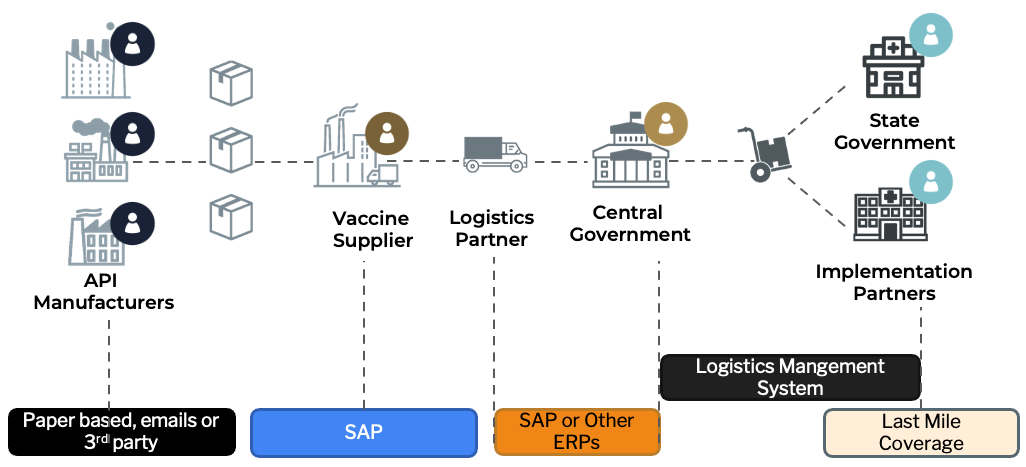 Fig. 2 – Simplistic overview of Vaccine Supply Chain
The VaccineLedger application is deployed on AWS infrastructure and available on a Software-as-a-Service model. VaccineLedger leverages AWS services such as Amazon Simple Storage Service (Amazon S3) for storing media, Amazon Elastic Compute Cloud (Amazon EC2) for hosting application servers and AWS Elastic Beanstalk for application deployment. The VaccineLedger application, being modular and configurable, could be utilized to track any product.
Currently, VaccineLedger leverages manufacturer's serialization or product identity identification methodology. It creates a digital thread of every shipment transaction and chain of custody, thereby, enabling unit level or SKU level visibility. This capability also helps handlers to identity the authenticity of vials by using the chain of custody data of every serial number.
Fig. 3 – Enabling SKU (vial) level visibility in a vaccine supply chain
The network inventory visibility module in VaccineLedger helps organizations to make actionable decisions on moving inventory from one location to another. This especially helps to meet real-time demand shift and informed consumption of vials near expiry.
Fig. 4 – Geo wise network inventory visibility module
In 2019, during a month-long pilot deployment, the platform tracked over 200,000 vials of vaccines through an international shipment from Hyderabad, India to the MENA region. It tracked end users from distribution, logistics and distribution teams with an estimated savings of 15% of vaccine vials wastage, which can be attributed to (assuming 10 doses per vial) saving about 140,000 lives.
Here, VaccineLedger traced the journey from the purchase order, from an institutional vaccine buyer's SAP ERP, through to the last mile confirmation by a mobile application from an immunization partner in the field. VaccineLedger connected the purchase order and vaccine serial numbers to their shipment details to create a connected view of all vials in transit. Each participant in the value chain could view shipment details, accept or reject the chain of custody, change packaging, and comment on quality (in case of physical damage).
Fig. 5 – Dashboard View for tracking shipments and the chain of custody at vial level
During the pilot VaccineLedger tracked KPIs that critically impact the wastage of vaccine like:
Demand
Temperature conditions
Out of stock
Overstock (vs demand)
Breakage or damage
Expiry or about to expire
Shipment tracking
The type of key stakeholders for implementing such a system would be manufacturers, airport cargo terminals, healthcare operators, and distributors. Each stakeholder could have 5 to 100 users, depending on the active ground sites and field workforce.
Summary
Unit level visibility in a life-saving drug supply chain can significantly improve efficiency and reduce the overall wastage. It can help pharmaceutical organization to move away for a push model of inventory to a more real-time/patient demand driven model. To implement unit level traceability in your products please contact your AWS Representative or AWS Partners.
AWS Partner Spotlight
Tech Mahindra is an AWS Premier Tier Services Partner and MSP that specializes in digital transformation, consulting, and business re-engineering solutions.
Amey Rajput is the General Manager for the SmarTrust Business Unit at Tech Mahindra and is responsible for Business Development – Consulting, Platforms & Solutions, Thought Leadership, and Strategic Alliances. He has been part of the blockchain competency since its inception in Tech Mahindra and scaled it to a large business unit. He plays a key role in handholding clients into experimenting and implementing platforms in Customer Experience, Supply chain, Data privacy, and Trade finance domains. Under his leadership a team of 70+ blockchain architects and developers have delivered 35+ live implementation in verticals like Manufacturing, Telecom, Banking and Public Sector. Amey has a bachelor's degree in Mechanical Engineer and MBA from Indian School of Business with over 10 years' experience combined in Manufacturing and Information Technology.